Welcome To Sage Elder Wisdom
by Kaye Sturgis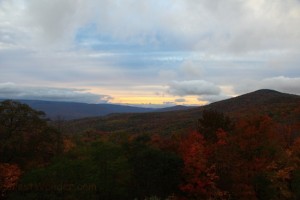 In 1993, Larry and I journeyed to a mountaintop in Love, Virginia to pray for a vision. We came to the mountain after six months of intense prayer, and seven days of fasting in order to prepare ourselves for a vision of service and purpose. Closing in on the third day on the mountain, I was dirty, tired, hungry and about as humble as a person can get.
It was late afternoon as I sat on a granite rock outcropping overlooking a valley, hundreds of feet below. I breathed in the spectacular vision of radiantly rich hues of red, pink, orange, yellow and purple autumn tree leaves that I could swear glowed with light under the late afternoon sun. The colorful forest carpeted the valley right up into the next mountain ridge back-dropped by the Western Sky. The Sun, hanging low in the sky, would be setting behind the peaks within a couple of hours. There would be warmth until then. Certainly, in the moment, I was witnessing a pure bliss-filled moment of heaven-on-earth.
Something caught my eye and to the North, and moving across the blue canvas toward the Sun in the West, flew a great spirit serpent. His magnificent body was vertically ribbed from head-to-tail in rainbow colored light. (And yes, I was drug-free.)
I watched for some minutes as it came closer and closer to the Sun which was directly in front of my vision. The serpent looked right down at me with its enormous sky-eye, paused and said telepathically, clear as a bell. "Share what you know." I waited for more which didn't come, and then could hear myself respond "What?" as if I had not heard correctly. It said, "Share what you know." I took it in. "You've got to be kidding. 'Share what I know?' That's it? Six months I've prayed and meditated to have a vision, and this is it? I've fasted ten days in all, am watching buzzards fly overhead looking hungrily down at me, and you're saying 'Share what I know?' He said it one more time just for good measure, winked that great eye and poof, just like that, disappeared.
It has taken years to fully understand the rainbow serpent's message. Even before that vision, and for many years afterward, I communed and shared what I know with literally tens of thousands of friends, people and clients from every walk of life imaginable, who have sought my services  in my role as an Intuitive Astrologer, Shamanic Tarot Reader, and Mystic.
Now, the time has come to fulfill the Vision at another level. When my daughter, Kelly, died to this world several years ago, my life experience transformed. I spent four years after the event turning within in every spare moment, and connecting with my Source and listening as closely as possible to Divinity's inner guidance. It has guided me (and my wonderful soul mate of a husband, Larry, human being extraordinare, who no doubt, you will be hearing from in future blog posts and via Sage Elders'  graphic design)  to create Sage Elder Wisdom as a vehicle for Reality-based teachings, stories, products and services intended to reflect your awakening to your Divine Self.
I have come to Realize that only when we awaken to Who We Really Are (The Divine Self), can we walk in Harmony with All of Life. As more individuals awaken to this Reality, the problems of the World of Form will dissolve. Love will be what remains.
We hope you will subscribe to our blog, and add your own Sage Elder Wisdom comments.  Together, we will play our parts to bring Reality-Based Teachings to those, whose best interests will be served.
In the Spirit of Unconditional Love,
Kaye and Larry Sturgis