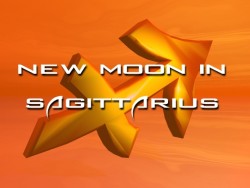 New Moon in Sagittarius
Monday December 2, 2013
 7:22 PM Eastern Time
This time of year is full of heart energy, and having entered the holiday season, New Moon in Sagittarius gets things moving in full swing. Sagittarius and his planetary connection, Jupiter "rule" celebrations, holidays, angels, abundance and all kinds of philanthropic  tendencies. Here's a groundswell of generosity of spirit that rises with this New Moon's powerful yin/yang   connection. In fact, it asks nothing less than our intentions at this time support only our highest  ideal(s). Opening ourselves to receive the unconditional health, wealth, love and wisdom that the Universe has for us, along with looking for ways to help those less fortunate than ourselves through what might be a difficult time, is where it's at. Religious organizations are known for charitable endeavors, and it comes as no surprise that Sagittarius also rules our spiritual inclinations, and also spiritual tools such as prayer and the altars we create to remind us of a higher level of consciousness and Divine Life.
In peeking at the chart, this New Moon/Sun conjunction sparks with a fiery and creative live wire in a trine to Uranus, the planetary energy that keeps us all on our toes. We can expect an upbeat tempo of energy throughout this cycle with grace that sizzles!  As we dive deeper into the New Moon in Sagittarius horoscope, I'm personally drawn right off the bat to Venus and the abundance she represents. She shows up here quite at home in the Solar Chart Second House (of self- worth, money earned, and one's possessions). From this placement, she makes a beautiful trine to Mars, in full support of our personal and intimate relationships, not to mention providing plenty of energy for social activities throughout the Sagittarian cycle. This aspect could bring good money news, but practice jurisprudence here. Venus also oppositions Jupiter, our ruler for this New Moon, and this speaks to remembering practicalities when it comes to spending, or there will be consequences coming out the other side. It reminds us to avoid confusing feelings of wealth with how much is actually in the bank account at present.
Mercury (communications, perspective, short trips) conjunct Saturn (purpose, direction, focus, delays) can mean travel snarls. On the upside, this is a great time to snuggle in on cold mornings, journal our heart's desire and enjoy an aromatic cup of tea. One afternoon or evening, we may think we're settled in for a long winter's nap, but the doorbell ringing will bring an unexpected but positive redirection.  However, Mercury's  square to Chiron and Neptune asks us to take a cautionary approach when "connecting the dots of synchronicity" in a way that may not be Real. If in doubt, we're encouraged to ask for further guidance.
These Sagittarian spiritual gifts (listed below) are here for our delight and practice:
Abundance — All manner of gifts flow in and out of our lives from seemingly insignificant to the grandest displays the Universe can provide for our Earthly pleasure. Enjoy!
Angels — Our spirit brothers and sisters function to help us in ways we currently only dream of, but it's gaining common knowledge that these Light Beings can help best when we ask. Try on a new habit of asking for their assistance on EVERYTHING each morning, and track the results in a journal.
Generosity — Make generosity a way of life. Edgar Cayce said that part of what ended the ancient Atlantean culture, etc., was that wealth was not shared. (Sound famliar?) Let's not just be generous. Let's seek to be generous. How much of ourselves and our gifts can we give without being out of balance? Start here, and our capability for giving will grow. The more we give, the more that comes to us to give. The more ways in which we find to give, the more ways abundance will be showered on us.
Love and Blessings to you and yours,
Kaye Sturgis
I would love to interpret your natal or updated horoscope or provide gift certificates for your loved ones. Recordings are also available. Appointments by phone.
SAVE! To take advantage of the annual discounts on astrology charts, click here, or go to kayesturgis.com anytime, or email me at ks@gridoflight.com